Ruffner Mountain Nature Center | LEED Gold
Buildings and the spaces around them are integral to a community's vitality. In 1965, our founding partners formed a studio based on the idea of practicing architecture at the intersection of art, technology, and community…the creation of artfully crafted spaces that transform the communities of people they serve.
Birmingham-Shuttlesworth International Airport Terminal Modernization & Expansion| LEED Gold
As we move into our next 50 years, this idea forms the bedrock of our practice.  KPS Group has evolved into a dynamic community of design and planning professionals with shared values and passion for what we do.
Bakers Row Adaptive Re-Use | KPS Group Birmingham HQ | LEED Certified
Our lively, open studio environment encourages collaboration and inspires us to take advantage of the unique talents offered by each member of our diverse staff.
19th Judicial District Courthouse | Baton Rouge
We believe that listening to everyone involved in a project and harnessing that collective wisdom is the best way to craft transformative environments that enhance the activities going on in and around them.
We work to understand our clients and deliver high-performance design solutions that add value to their organizations – designs that continue to help them succeed as they grow and evolve.  Our service-oriented team treats clients with attentiveness and integrity, and takes pride in delivering quality work that respects their time and budget.

LinkedIn Company Updates

4 Days Agoview on linkedin

Redstone Federal Credit Union is on the move! Led by Huntsville office director Kristine Harding FAIA, the KPS design team is working closely with RFCU on new facilities in both Murfreesboro TN and Huntsville AL. Their branch & office complex in Huntsville recently broke ground...check it out! https://lnkd.in/eZE6yu5

10 Days Agoview on linkedin

Donna Dowling IIDA and Hugh Thornton AIA will be representing KPS tomorrow at ACREcom2019 - the Alabama Commercial Real Estate Conference & Expo. Stop by our exhibit table in the Expo Room and say hello - we're excited to be an Amenity Sponsor this year! We hope to see y'all there!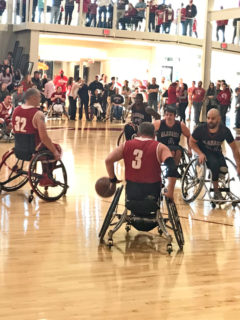 Designing sports & recreation facilities for athletes and students with disabilities takes ADA and universal design to the next level …